Exclusively designed for 100% Dead Sea Minerals

Dual natural ozone purification

Healthy pool water sanitiser (PRO Series)

Professional poolside health checks

Experience the exceptional benefits of natural ozone purification + 100% Dead Sea minerals in your own pool.
Works
How mineral swim Purification works
Ozone-to-oxygen purification
Ozone purification is 3,000 times more powerful than traditional water purification, reducing chlorine requirement by up to 80%, leaving you with clear, clean and odour free pool water. Ozone instantly neutralizes any organic contaminant and converts it into oxygen before the water hits your pool. Ozone purified water is noticeably softer, safer and hygienic.
100% dead sea minerals
For thousands of years, the Dead Sea has attracted visitors from around the world, searching to renew their skin's vitality and youthfulness with the mineral-rich deposits along it's shores. The high mineral content, low concentration of pollens, allergens and UV rays, plus high atmospheric pressure, make the Dead Sea the epicente for health research and treatment. Now you can experience the wonderful benefits of the Dead Sea in your own pool with Maytronics Mineral Swim 100%
BENEFITS
Health & Wellbeing Benefits
Safe for allergy, asthma & eczema sufferers
Natural ozone purification combined with Dead Sea minerals greatly reduces the need for chemicals and chlorine which can cause flare-ups in allergy, asthma and eczema sufferers. Ozone purification is a great option for babies and young children.
Soothes & relaxes muscles & joints
Mineral Swim™ 100% Dead Sea minerals are rich in magnesium – known for maintaining healthy muscles. This could help with arthritis, mobility, leg cramps & pain. Your muscles will feel soothed & relaxed after every swim. A Mineral Swim™ pool is perfect after strenuous exercise.
Soft on skin, Gentle on eyes
Magnesium softens and enhances water quality making it much gentler than traditional salt and chlorine pools. Less irritated eyes, softer, silkier hair and skin. No more chlorine smell or need to shower afterwards. It's like spa therapy.
Series
Choosing your pool system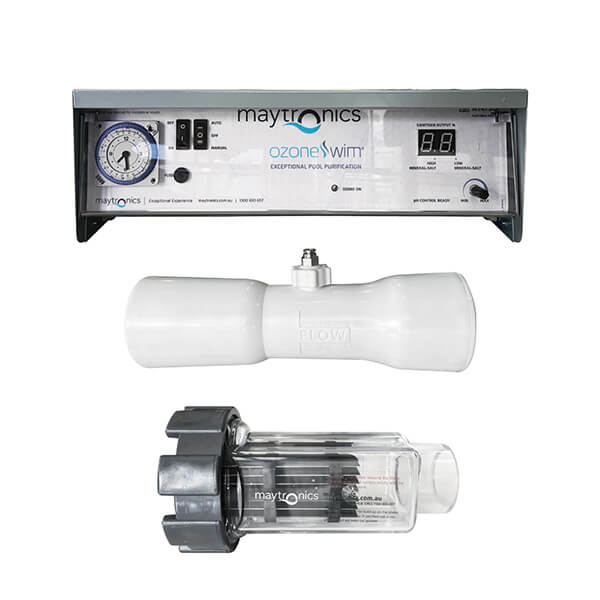 Mineral + Ozone = Total Solution
The 2000 and 3000 Series is designed to replace existing sanitisation systems. These units have the benefit of both mineral Chlorination and Ozone purification.
| | |
| --- | --- |
| MODEL | POOL SIZE |
| 1000 Series | Less than 45 Cubic Meter |
| 2000 Series | 45-90 Cubic Meter |
| 3000 Series | 90-110 Cubic Meter |